Established in 1990, our eye care clinic specializes in caring for all your vision needs. We handle everything from eye exams and hard-to-fit contact lenses, to computer vision problems, specialty lenses and eye surgery. By staying current with the latest developments in eye care, prescription lenses and advances in contact lens technology our vision center can provide you with the best vision, advice and fit today—and in the years to come. We take pride in building lasting relationships with our patients, which is why we take the time to get to know you, your vision requirements and your lifestyle needs. Contact our eye care clinic today to find out how we can help.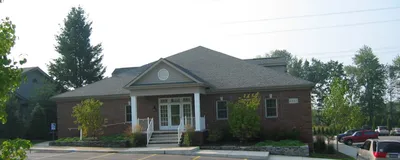 Community Outreach & Charity Initiatives
It's important to give back to the community in which we live and work, which is why we are involved in a number of local outreach and charity initiatives.
Associations & Awards
We are proud of our Doctors' achievements. Read more about their associations and awards.
Dr. Ann M. Spadafora
Dr. Ann Spadafora has been providing comprehensive eyecare for over 25 years. She was awarded her Doctorate of Optometry with High Distinction in 1993. Her studies offered her the opportunity to have rotations in Glaucoma management, Pediatric Eyecare and Ocular Disease Management. Upon graduation from The Michigan College of Optometry (MCO), Dr. Spadafora enjoyed providing comprehensive eyecare for all generations while practicing at Henry Ford Optimeyes. This was especially true as she participated in the Infant See Program and provided eyecare throughout Southeast Michigan with the Nursing Home Eyecare Group. In 2004 she was given the opportunity to practice at Ruijin University Hospital in Shanghai China. She was the lead Optometrist for this internationally ranked hospital's Eyecare Center. Upon returning to the states she continued practicing at Henry Ford Optimeyes and served the Detroit community at their Main Campus. She is honored to continue Dr. Zak's legacy in serving Clarkston and the surrounding neighborhoods for over 30 years. Dr. Spadafora's husband, Paul, and her two daughters enjoy the time they spend biking and cheering on their Clarkston High School Wolves.
Dr. Michael Zak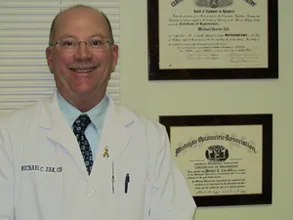 Dr. Michael Zak graduated from the Ferris State College of Optometry in 1983. He has been in private practice in the Clarkston area since 1990. He also practices at St. Joseph Mercy Brighton in the Clark Laser Eye Center.
Dr. Zak is a past president of the Metropolitan Detroit Optometric Society, and has been a member of both the American and Michigan Optometric Associations for 33 years.
An Independence Township resident since 1985, Dr. Zak and his wife Jan have three sons Christopher, Michael and Adam.